Setting-up Availability Calendars
guides > calendar management
Calendar Management
Logging to an account with using its master password makes it possible to
create one or more calendars and also, if required, configure them to suit particular needs.

Creating an Availability Calendar
To create a new calendar select the link marked 'Add/Remove Calendars', then enter a name for the calendar you want to create.
As soon as you have created a calendar it's ready to use and you can start putting in availability details and sharing it.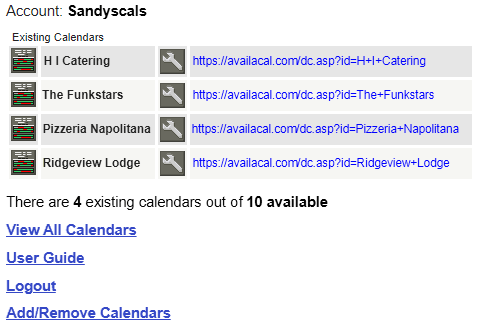 A Screenshot of a Calendar Management Panel
Viewing and Updating the Available Dates on Calendars
The buttons on the left of each calendar name display a view of that calendar along with administration controls to block-in dates on each of the calendars.
The 'View All Calendars' link displays all the calendars in the account together on one page.
Accessing the Advanced Calendar Options
The 'wrench' buttons the the right of each calendar name open the
Advanced Options
panel which provides a variety of configuration settings including the ability to set individual passwords for each calendar.
These calendar-specific passwords can be shared with one or more other people who will then be able to directly update and edit the available/unavailable dates on one or more particular calendars. Calendar-specific passwords are only for administrating the dates on calendars, they do not confer any permissions to alter the main configuration settings or any other calendars in the account.
Link Strings
Next to 'wrench' buttons are the basic link strings for the dynamic calendars. You can copy and paste the links to share or embed the calendars. Note that link strings never contain any spaces. Wherever a space is needed the + character is used instead. You can easily alter the basic link string to change the type, style and features of the calendar.

Changing the Calendar Display Type
As mentioned previously, it is easy to change the type of calendar display. All that needs to be changed is one letter in the link string:
dc
refers to the dynamic calendar type; change this to
ac
to see a
table
type calendar display; or
mc
for the
mini
calendar display. Any of the calendars can be
shared, or
embedded in web pages or made to 'pop-up' from a link. Check our
Sharing Calendars
page for more details
.
Deleting Calendars

Deleting a Calendar
If for any reason you want to remove a calendar from your account it can be deleted using the same procedure as creating a calendar except you must precede the calendar name with the exact text DELETEyesDELETE, followed immediately (no space) by the exact calendar name (with normal spaces). Be very careful when deleting a calendar, deletion is
immediate and irreversible. A deleted calendar can be replaced with a new one, or even one with the same name as the one just deleted, but it will be a virgin calendar with none of the date data that may have been stored in the original.