WAP Functionality
WAP stands for Wireless Application Protocol. It's a low bandwidth data transfer system, popularly used for internet access on older types for mobile devices such as phones and PDAs using WML for the screen display. The AVAILACAL calendar system's special functionality to work with these devices was a big deal at one time, however, because all AVAILACAL calendars provide excellent bandwidth efficiency and compatibility most newer portable internet devices now support full access to AVAILACAL calendars without the need (or in many cases, even the ability) to use WAP. The dynamic calendar and mini calendars are now generally the best options for displaying calendars on small mobile devices screens. The details below may be interest if you're interested in accessing your calendar(s) using a portable device which only has a monochrome display or only offers internet connectivity via WAP.


---
Detailed Guide to WAP functions
The AVAILACAL WAP system shares the very same calendar information as the other AVAILACAL calendars, any of which can be used to view the same availability information. A valuable use of the WAP system is the ability to check availability and instantly update calendars from older mobile devices. Some of the of the WAP based calendar system are as follows:
Editing a calendar via WAP is only possible after a calendar-specific password has been set.
Calendar management (e.g. creating new calendars, setting passwords etc.) can not be done via WAP.
WAP calendars are monochrome for maximum compatibility with different WAP devices.

Viewing a Calendar via WAP
To view or edit a calendar via WAP: Using a WAP device go to http://availacal.com/wap and enter the calendar ID as shown below (figure A) The calendar ID in the example shown is Example. Choose the calendar month that you want to view (B), and it will be displayed (C). Links below the calendar let you to jump forward to the next month or back to previous month. Available dates are indicated by the presence of month day numbers. Non-available dates are indicated by an X. Dates when only either the morning or evening is available are indicated by the symbols ] and [ respectively, along with a smaller sized day number. A key is shown by scrolling down below the calendar (as in figure 1 in the subsequent section of this guide).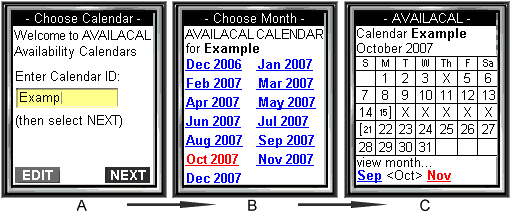 Editing a Calendar via WAP
If a calendar-specific password has been set for a calendar it is possible to edit the calendar via WAP. To do this; first display the calendar as shown in figures A, B and C above, then scroll down past the key. Two links are provided. The lower link, labelled "Home (Start)" will return you to screen A (above), perhaps to view a different calendar. Choosing the "Calendar Admin" link displays a box in which to enter the password for editing the calendar (2). When successfully logged in, a series of screens prompts you for the booking start day, month and year (3,4,5). This is then followed by the same sequence to set the end date.

After entering the end date of the reservation a drop-down list of possible actions appears (6), This works in the same way as the standard Calendar Administration panel (see above). On clicking CONFIRM the calendar data is updated with the new data.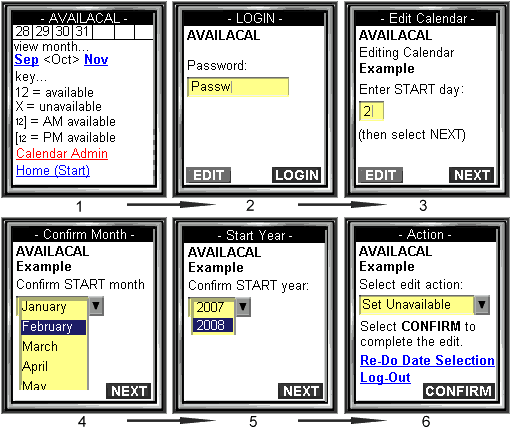 Please note: WAP devices vary. Actual calendar and interface display screens on specific devices may differ significantly in appearance from the images shown here.